Tell us about your work:
I'm a Dallas-based musician, actress, and activist.
I have three self-produced recordings on my own recording label "Rocket Girl Music."
The Love and The Light: Live at the Bath House Cultural Center- 2017
Some Kind Of Wonder – 2007
Life's Blessings- 2001
In 2013, my colleagues at Echo Theatre and I wrote "The Echo Room Presents: Her Song", which won a Dallas Column Award for best new work by a local playwright. It celebrates female American songwriters between 1900 and 1940, many of whom were never given the credit they rightfully deserved. It has had four highly successful runs and this February it will be produced for a fifth run.  In 2017, I won the B.W. Stevenson Songwriting Contest at Poor David's pub in Dallas. My song 'Texas Star ' was one of the winners and it is about the Texas Star Ferris Wheel at the Texas State Fair. Another one of the songs I entered was 'The Call' which I wrote when the North Texas Center for Peace and Justice asked me to write a call to action song for a Peace Rally.
My music has been featured on NPRs Car Talk, the TV series The Art of Living, and in meditational videos. I have also had the honor of performing my song "Life's Blessings" with the Dallas Woman's Chorus. I also provided music in David Marquis' play "The Land," which explore the relationship between Mother Nature and a "Type A" land developer.
I also do a lot of volunteer work in Nursing Home and Retirement Centers and in schools with young children. I use music to teach about the importance of recycling and caring for our planet. I believe that music and the arts are a wonderful way to pull people together to bring about positive change in the world. The arts enable us to see and understand difficult things in a different way of conversation.
How would you describe arts and culture in Dallas?
Dallas is an incredibly vibrant city with an amazing art community. I have been very fortunate in that I have been able to move freely in an artistic way between the worlds of theater and live music. I've found that many of the folks that I perform for are all about the cross pollination of the arts as well.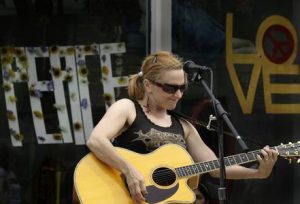 What drew you/what keeps you in Dallas?
I grew up here in Dallas as did my parents and my maternal grandmother, so I have deep roots here. My great grandparents made their living here as visual artists. I love the openness I find among creatives here. It's wonderful to attend a concert at the Myerson one night and then go to a honky tonk the next evening. We have The Dallas Theater Center, and numerous independent theaters. Did you know that Echo Theatre is one of a handful of theaters in America that only produce works written by women? We have amazing art programs at the local colleges and universities as well!
What are your hopes for the cultural plan?
I am excited about the Cultural Plan, celebrating diversity through the arts is crucial! We live in a time right now, when huge parts of society are becoming less connected and more fragmented. The arts pull us together and help us to understand that when we all work together, play together and dream together we build better communities!
What does your art reveal about you?
I hope that through my art I can communicate my deep desires that love, compassion and forgiveness can bring change. I try to use a lot of humor in my work because often what I say in my music can be tough to hear, even though I feel it needs to be said.